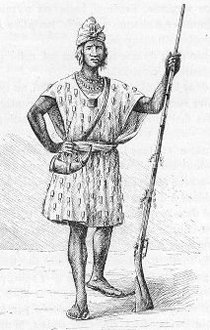 Malinke hunter - Col. FREY, Côte occidentale d'Afrique - views, scenes, drawings of Jeanniot, Bretennier, Darondeau, Fernando, Nousveaux, Phillipe - 1890 - Gallica (Bnf)

« Balakononinfing » (The Little Black Bird of the River Banks) is a praising song belonging to the cycle of the Epics of the Manden Hunters.
That song celebrates the Hunters and the Kings whom, ever since the beginning of the Manding, they have been associated on ruling people. So, Soumaworo Kanté, Naré Famanghan Kon Fatta Konaté and his sonSundjataSundiata faasa is the most famous song of the Manding tradition. This song is also known under the title of The Anthem of the Bow or Simbo... Read more had been famous as great hunters who have reached the highest degree in occult initiation and hunting art, i.e. : « Magha Sûbâ : Greatest Wizard Master of Occult Genius (of the Night) ».

On the other hand, the « Balakononinfing » is an (occult ?) figure in the mythic cosmogony in Manden but I don't know a thing about his role.

Some singers had recorded that song, but those whose names are attached to it definitely, are Salif Keita and Mory Kanté in the time they were part of the legendary great band, Rail Band.

On his album 10 cola nuts which launched him in the world scene, Mory Kanté had performed a modern version untitiled « Teri ya ».

Not many korafolálu recorded that slow and incantatory song, initialy created on the donso n'goni.

Other famous performers of « Balakononinfing » :