Others writings : Allalake- Alla La Kè - Allahlake - Kôbè - Ndia
Way of playing and specific tuning : Sauta or Tomora Menseng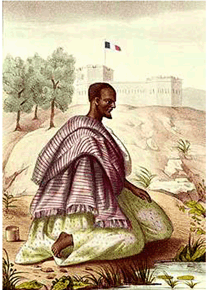 Manding marabout - Abbé Boilat : Esquisses sénégalaises (1853) © Gallica

That song is one of the most famous of old Manding music tradition. It traces back to SundjataSundiata faasa is the most famous song of the Manding tradition. This song is also known under the title of The Anthem of the Bow or Simbo... Read more times and was played on bala and n'koniThe n'koni is a melodic instrument hailing from the Fulani, used since antiquity by that ethnic group. In the beginning, it was made with a single string and was probably created by the shepherds... Read more. before being adapted at the kora.

This song is often sung - played - to comfort. Literally, it means : God (Allah) has (L'a) acted so (Kè).

The main topic of the song focuses on the immutable Destiny and fate - topic very sensitive for Mandinka people.
Famous performers of « Allah L'a Kè » :
Alhaji Bai Konte : Kora Melodies : Music from Gambia, West Africa - © 1979
Sidiki Diabate, Batrou Kouyate - Mali : Cordes Anciennes , © 1970 Buda Records
M'Bady Kouyate Guinee : Kora et Chant du N'Gabou, vol. 1, 1997 Buda Music
Djeli Moussa Ballake Sissoko, Tomora

Ballake Sissokho is a great korafolá from Mali, great griot Djelimady Sissokho's son... Read more.

, © 1997 Bibiafrica / Indigo
Toumani Diabate, Kaïra - Hannibal Records, 1989, Rykodisc Label