« Diaoura » comes from Mali, exactly from the Kita area.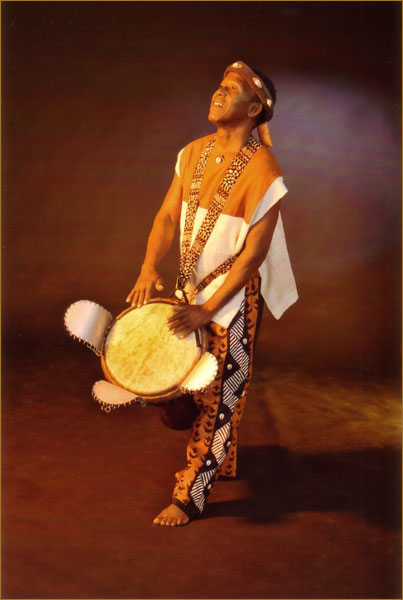 It is a dance rhythm, which has been created at djembé the adapted on balafon and kora. Today, that folksong is still very often played, with jembe and dudun accompaniment and is a favorite of Malian acoustic guitarists. In the beginning, it was used to be performed on festivities devoted to great farmers. That's the reason why, in the earliest performings, it is called « Sansenefoly » (Praising song to the Farmers of the Year).

Like Mamaya« Mamaya » was, at the beginning, a dance coming from Mali to Guinea in the 30's and reached his full swing after the second world war throughout West Africa...Read more., « Diaoura » is still a folksong very often perfomed, in a solemn rhythm, traditionally in Sumun festivities, i.e. : long-time « musical telling show », offering opportunity to stylistic great performances of jèlílua jèlí (jèlílu, plural) is a bard, loremaster, and praise-singer in the Manding areas whose functions are story-telling, speaking about lineages, singing and playing music as he want and hear it... Read more..

Ami KoïtaAmy Koita is a very great star in all over West Africa and she's now famous all around the world. Coming from Mali, she is to be considered as a great « diva » such as Mah Damba, Kandia Kouyate, Oumou Sangare, etc. Many of her compositions are today standards of the Manding repertoire... Read more. performed that song in modern way, under the title « Lolan » ; Kandia KouyateKandia Kouyate is a very famous singer women coming from Mali, world wide known, - since she was a a child, she was indeed a legend ! Indeed, because of the depth of her great harsh voice, she has been nicknamed in Mali the Dangerous Jelimousso... Read more. sang also that song in a masterful performance (« Doninké »). Malian guitar hero Djelimady TounkaraCo-founder and guitar leader of the Super Rail Band of Bamako, the mythical band that have initiated all the now electric Manding musics... Read more. has performed it too, so many time, that the song had been, in a way, his stylistic signature.

Famous performers of « Diaoura » :
Amy Koita, Songs of Praise

Amy Koita is a very great star in all over West Africa and she's now famous all around the world. Coming from Mali, she is to be considered as a great « diva » such as Mah Damba, Kandia Kouyate, Oumou Sangare, etc. Many of her compositions are today standards of the Manding repertoire... Read more.

- Stern's Records (feat.Moriba Koïta

Moriba Koita is a very great n'konifála, native of Kita (Mali) - the cradle of jelilu great dynasties, very famous in his country and all around the world... Read more.

, n'goni)
Kandia Kouyate, Kita Kan

Kandia Kouyate is a very famous singer women coming from Mali, world wide known, - since she was a a child, she was indeed a legend ! Indeed, because of the depth of her great harsh voice, she has been nicknamed in Mali the Dangerous Jelimousso... Read more.

© 2003
Djelimady Tounkara, Discography

Co-founder and guitar leader of the Super Rail Band of Bamako, the mythical band that have initiated all the now electric Manding musics... Read more.

Diabaté Mamadou, Behmanka

Mamadou Diabate is a great korafolá world wide known. Mamadou's father Djelimory played kora, the griot's venerable 21-string harp... Read more.

, © 2004