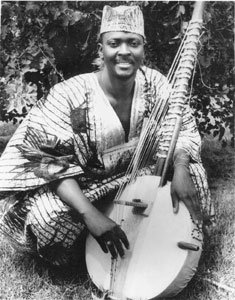 Morikeba Kouyate is a korafolá A korafolá is a kora player in mandinka (who is able to make the kora talk) - korafolálu, plural. , since now unknown by European public but he gathered a great reputation in United States where he lives now (since the beginning of the 1990's) and he works as a kora master teacher at Chicago's High School, walking on the steps of the famous kora player Foday Musa Susso.

Coming from Casamance, he performs some classic folksongs of the Manding tradition in the pure style of Casamance kora players. He is also obviously inspired by the Gambian modern school touch in kora playing known as yeyengo.

Morikeba Kouyate was born and raised into a family of griots, or jalis, in Bounkiling Senegal. He began his training at the age of eight and was performing professionally by the age of fourteen. He became successful and well-known for his expert storytelling and Kora playing. As a result of his success, Morikeba was given the opportunity to have his own radio program in Dakar, Senegal. His show was aired throughout Senegal and several other African countries.

He also made numerous appearances on Senegalese television. Morikeba Kouyate has played before African royalty and the Presidents of several countries, including Senegal and The Gambia. Morikeba Kouyate is a recipient of a 2002 Illinois Arts Council grant for the Master-Apprentice Program (a 2003-2005 Illinois Arts Council Arts tour artist) ; and a recipient of a 2003 City of Chicago, Department of Cultural Affairs Community Arts Assistance Program (CAAP) grant. Additionally, Morikeba has given workshops around the country and has taught/performed at Harvard, DePaul, Northwestern, Xavier, and many other universities. Mr. Kouyate performs year-round throughout the United States and currently resides in New Orleans.