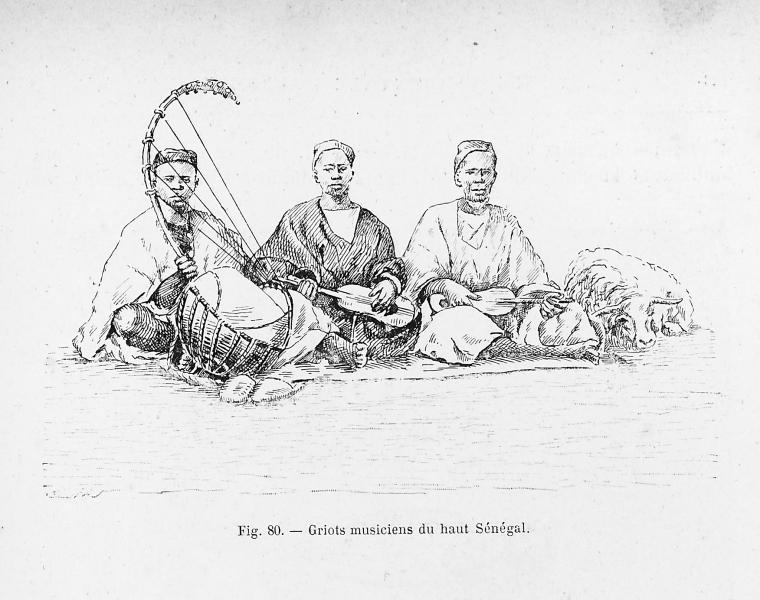 Griots from Haut-Sénégal- Col. FREY, Côte occidentale d'Afrique -1890 - Gallica (Bnf)

«Tubaka» means «dwellers of T(o)uba» ; a lot of cities in West Africa are called «Touba» ; there is a «Touba» in Senegal, the holy city of the Mourides, grounded in 1885 by Cheick Amadou Bamba ; but there is an another «Touba» in the Mahou in Ivory Coast, and again an another «Touba», in Middle-Guinea, on the river sides of Koumba, at the middle way between Labe and Kade.

So the folksongs « Tubaka » and « Touba » should not be confused, for (Bamba) « Touba »is a praising song dedicated to Cheick Amadou Bamba ; just check Pa Bobo Jobarteh for « Touba ».


« The nick-name of « Tubaka » or « Tou » has been given to a singer-dancer who, for he was not a « jeli», has been banned by his family who refused to him the right to be a singer. »

Indeed, « Tubaka has fallen in a bad end. For his younger brother, Kalil, who was a rich and popular merchant, felt that his elder brother was humiliating him by singing and singing in front of the public on the market place. Kalil who was an influent man has called in the administrator who banned the charming and brilliant dancer. »

Quite recent, that tune «was on the mood in 1935 to 1940 » but it have been performed again and again many times- especially by kora players - these last years because of its "modern" harmonic resonances and also its original topic : indeed, in this song, it is obvious that, even if jèlílua jèlí (plural, jèlílu) is a bard, loremaster, and praise-singer in the Manding areas whose functions are story-telling, speaking about lineages, singing and playing music as he want and hear it... Read more. take a great part in the society, their condition has been always inferior on many points of view...

Salif Keita, when he was part of the Ambassseurs Internationaux band, sang many times that popular tune (Kandoun) and composed a famous modern remix of it untitled "Seydou Bathily".

Others famous versions of «Tubaka» by :
| | |
| --- | --- |
| | Sory Kandia Kouyaté, Grand Prix du Disque 1970 |
| | Toumani Diabaté, Kaïra, Hannibal Records, 1989, Rykodisc Label |
| | Y. Sissokho, Lassana Kouyate, Mangala, Chants et musiques de griots, © Air Mail Music, 2001 Sunset France |
| | Ablaye Cissoko, Diam, 2002 - © & (P) Ma Case |